BakerSA
This site, with its regular newsletters, dedicated to the baking, milling and snack industry, brings you:
Latest news and developments from South Africa and around the world, so you're in the know
Updates on new innovations in equipment, ingredients and solutions, so you stay a step ahead
Local and international events and happenings, so you stay informed
Inspiration and tips with a range of tested recipes
An updated list of suppliers to our industry, so you know who's who
A regular newsletter updating you on all this conveniently delivered to your inbox
Contact details:Website: www.bakersa.co.za
Contact person: Rob PansegrauwEmail address: rob@bakersa.co.za


Singing Beans Allegro Coffee wins Double Gold award at 2021 awards.
We asked Diederik and Marietjie Niehaus a few questions to find out about their success.
Tell us when your company was founded and some of its history?
Our passion for artisan coffee roasting started in 2014 when visiting a coffee roastery in Mosselbay, South Africa. We love family, and we love coffee, so we knew that this was something we as a family wanted to pursue.
In 2017 we approached Kevin Nicolas from Mechanical Concepts in Cape Town and asked him to build us an artisan coffee roaster without some of the bells and whistles of modern-day roasting machines. They presented to us a roasting machine of pure craftsmanship. It is a classical double drum design that uniquely roasts coffee.
Tell us about some of the unique features of your company.
We are a small family business (if you can call us a business) with a big heart. We are in a very fortunate position where our focus is on quality and not just quantity. We also love to get communities involved and empower people, even if it is on a micro-scale. One of the NGOs we support is the Basadi Skills Project that equips African women in the Fobeni Village with skills to create a livelihood for themselves in difficult circumstances.
What do you think are some of the special products you have?
Singing Beans Coffee prides itself in the fact that we are unique in the way we do coffee. Two of our coffees that illustrate this fact are our Allegro Blend and Magoebaskloof Blend.
Our Allegro Blend, Singing Beans Coffee's flagship blend for the past four years, won the Gold and Double Gold awards at The Aurora International Taste Challenge. We think it makes the Allegro Blend special.
Our Magoebaskloof Blend is rare and unique. This fact was highlighted towards the end of 2019 when we came across a rare selection of arabica coffee beans.
Introduced to a coffee farmer in the Magoebaskloof region by a mutual friend, we soon discovered that what we stumbled upon was something unique in the context of South African coffee. Arabica coffee beans of the highest quality growing on the slopes of Magoebaskloof!
We are grateful to say that Singing Beans are one of only a handful of artisan roasters that use these specific Magoebaskloof coffee beans, and only a limited quantity is harvested and used in our Magoebaskloof Blend. Truly a rare South African find!
What is unique about your manufacturing process and your manufacturing philosophy?
We believe that our manufacturing process is unique and is one of the reasons for our success. Our artisan roasting machine can roast coffee beans at various temperatures and lower drum speeds, without surface burn. We believe that this feature, together with our old fashioned hands-on approach brings out the best in our coffee beans.
We believe true artisan roasting is not only a skill but an art. And by using one's artisan skills, one can create coffees that reflect this art form.
Our manufacturing philosophy is quite simple: Use what the Lord has given us to the best of our ability...and to do it with a thankful heart.
What is the consumer demographic of your products, and what feedback are you getting?
With 2.25 billion cups of coffee consumed worldwide daily, coffee has a wide spectrum of consumer demographics, and so do our coffees. We don't just want to roast pallet pleasers, we want to roast the best quality pallet pleasers.
We don't just want to roast unique coffees; we want to roast it uniquely for coffee lovers searching for that unique cup will find it in a Singing Beans Coffee cup.
Over the past few years, we had very positive feedback from long standing clients as well as first time tasters. Being awarded a gold and double gold at the Aurora International Taste Challenge is cementing the feedback we have received from our clients.
What innovations do you have in the pipeline for the future?
Our dream is to make coffee roasting accessible and affordable for more people. We have approached the guys at Mechanical Concepts in Cape Town to make the roasting machines available and affordable to roasters in South Africa. It is exciting to be part of a coffee roasting journey that enables roasters to hone their artisan skills.
Contact: Diederik & Marietjie Niehaus
Email: singingbeanscoffee@gmail.com
Phone number: +27 82 940 6523
Website: www.singingbeanscoffee.co.za
Facebook: https://www.facebook.com/Singing-Beans-Coffee-2387431424627174/
The Aurora International Taste Challenge 2021 - Tributes from specialist judges
The third annual Aurora International Taste Challenge took place at the end of September 2021 near Stellenbosch, South Africa, to celebrate and pay tribute to universal food quality. This event recognises and award food product excellence while helping consumers purchase award-winning, professionally rated products with confidence. An award is not only a great marketing tool to ensure traction in distribution, wholesale, and retail, but adds subjects and bragging rights to social media posts and articles.
Awarded products can utilise award artwork on the product, as well as in printed and electronic media. Many consumers are brand loyal but will pick another product if it is higher rated. Unbiased assessment and the subsequent award are still the best and most cost-effective ways to assure that a product will be noticed, and make it stand out among its competitors.
Celia Gilloway was the convener of the judges and invited some of the best food industry professionals to sit on the panel of adjudicators. With over 2500 glasses and small tasting containers on hand, the work could begin. It is no small task to find the best, as each product was assessed using product-specific criteria, including appearance, smell, taste, mouthfeel, and aftertaste.
The entries for 2021 were more than double that of 2020 which shows both how the stature of the event has grown, and that even in tough times there is a definite need for products to be independently evaluated and awarded.
Awarded products can utilise award artwork on the product, as well as in printed and electronic media. Many consumers are brand loyal, but will pick another product if it is higher rated. Unbiased assessment and the subsequent award are still the best and most cost-effective ways to assure that a product will be noticed and make it stand out among its competitors.
Celia Gilloway was the convener of the judges and invited some of the best food industry professionals to sit on the panel of adjudicators. With over 2500 glasses and tasting containers on hand, the work could begin. It is no small task to find the best, as each product was assessed using product-specific criteria, including appearance, smell, taste, mouthfeel, and aftertaste.
The entries for 2021 were more than double that of 2020. This growth shows how the stature of the event has grown. Even in tough times, there is a definite need for products to be independently evaluated and awarded.
Some of the highlights
In an age where the focus is increasingly on health, consumers are more aware of their drink choice. The move is away from high-calorie drinks, and consumers want to know products consist of natural plant-based ingredients of known origin. Not only should ingredients be natural, but preferably tie in with an active lifestyle and contain vitamins or minerals as part of a balanced diet.
The trend is to pay a higher price for high-quality products, which should also incorporate short transport routes, sustainable practices, seasonal fruit, and plastic reduction. Ethically correct and simple production with a high level of transparency is important.
Here are some of the awards received:
Drinks Awards

Most of the soft drinks were less sweet than usual, with natural flavours. The mixers displayed the same tendency as soft drinks with some elegant and well-balanced flavours.
The ever-growing kombucha class was again diverse in flavours and style. The balance of natural flavours in most of the kombuchas was evident. The range of flavours was overwhelming, but the Buchu and pomegranate types were particular favourites. The kombucha category surprised the judges with its diversity and the possibility of food pairing that these drinks hold.Energy drinks were also well represented, for a class of drinks not often associated with good taste. The energy drinks were surprisingly good, showing that consumers are being kept in mind, with innovative flavouring techniques.
This year there was special emphasis on beer, and beers from around the world were entered. The styles were diverse but very pleasing to the judges. The judges loved the range of beers presented and the array of stylistic differences. The quality was outstanding, and judges had difficulty finding clear favourites.
Olives and Olive Oil Awards

World olive production decreased for the third consecutive year, and subsequently, EVOO prices nudged higher worldwide.
This was the second year olive oil and olives were adjudicated at The Aurora International Taste Challenge.
The olive oils entered were diverse, and various styles were on offer. In general, the oils had sensational flavours and aromas that were well balanced, harmonious, with good mouthfeel and fresh persistent taste. The more intense oils were full-bodied with a rich earthy mouthfeel, while some were very peppery. The more robust oils had even more of a peppery punch with lively fruit notes. The moderate examples were buttery elegant, while some others displayed herbal flavours. A few entries were very mild and delicate, but showing surprising complexity.
The flavoured oils represented a vast spectrum of tastes. Some of the flavours were so fresh it was almost as if the flavour was added at the table. There were some chilli and lemon flavoured oils that were standouts.
The olives were diverse in style, but most showed good quality and pure flavours. There was a range of colours, sizes, and flavours. The olives generally had good texture and quality.
Coffee Awards

The essence of this event is to guide consumers from a consumer's point of view. Therefore products are evaluated in an environment, and circumstances, similar to what consumers would have experienced at home, or in a coffee shop. The professional baristas from The Truth Coffee Academy (https://academy.truth.coffee/) took great care in brewing every coffee in a reproducible way, churning out cups with precision for all the samples. Pre-ground coffee and coffee prepared from whole beans were entered and were evaluated in different categories as black coffee, and with dairy and milk alternatives.
The coffees ranged wildly in style and origin. "This year's submissions improved noticeably compared to last year. Some of the best entrants are juicier, brighter, more complex, and tastier overall. I suspect this is likely due to an increased educational approach on a roasting level." according to Q grader Mike Mc Donald.
Jono Le Feuvre noted: "The value of whole beans is obvious in the cup. Aromatics are more distinct and complex". He also urged coffee roasters to do their utmost to source "current crop" green coffee.
The entries ranged from the very nutty and smoky examples to the more flowery and herby coffees. Some of the dark roasted coffee showed excessive bitterness.
There were some very complex and aromatic blended coffees, while many of the single-origin coffees performed well. Of the single-origin coffees, the Ethiopian, Columbian, and Thailand coffees did very well.
Sausage, dried and cured meat Awards
Sausages, patties, bacon, dried and cured meat from all over the world were adjudicated, and the quality and diversity were evident. The uncooked meats were prepared by representatives of the Institute of Culinary Arts (www.icachef.co.za). ICA treated the meat products with respect and adjusted cooking times and methods to do justice to every product.
The cured meat categories were diverse and included some world-class products. Some were very complex with nutty flavours and lots of umami. The salami, in particular, showed well, with producers across the world showing off their expertise, while the Waygu beef examples, in particular, also did well. Chorizo also proved that it was a class to be reckoned with, with some prime examples. Products that stood out were the Cacciatoro, pepper ham, and Felino salami.
This year the humble liverwurst and Paté made their appearance as a class, and it was well represented by excellent and diverse examples.
The different kinds of bacon entered also ranged in quality and style, with the best showing real class and balance. The smoked examples were packed with flavour. The curing of the bacon and the amount of salt used differentiated entries.
South Africa is the home of droë wors and biltong, and the entries in this category consisted of varying quality products. The best examples had the correct moisture content, as well as balanced use of spice and salt.
In the uncooked sausage category, the entries varied. The local "boerewors" shined once again this year, with some very traditional and well-made examples. It seems that there is a conscious move towards a balance of flavour, as opposed to the dominance of one spice. In particular, one Russian cheese griller stood out. The level of workmanship was high overall.
Patties varied a lot in quality. The best examples made use of good quality meat and had the optimum amount of fat. The judicial use of spices had a significant influence on the end product.
Both big and artisanal producers had high-end entries. The panellists were impressed by the number and quality at the tasting.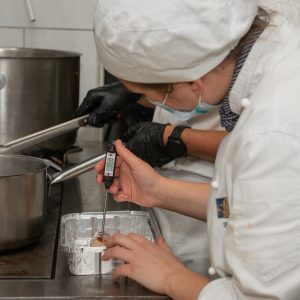 Dairy Awards
This was the first year that dairy products were adjudicated at The Aurora International Tastes Challenge. Entrants ranged from very artisanal and small to big producers.
Table butter and cultured cream butter:
Most of the products entered displayed a pleasantly clean, sweet, and mild flavour with a delicate aroma.
Yoghurt and Kefir:
Yoghurt entries ranged from drinking yoghurt, low fat to double cream yoghurt. Greek yoghurt is currently a growing sector in the dairy industry. The panel evaluated some excellent examples. Most of the yoghurt entries were flavoured, and most of them scored very well. The double cream yoghurt was a standout.
The kefir class surprised, with some very good, flavoured examples. The judges agreed that this class should be better represented, and consumers should be educated about the quality and diversity of kefir.
Fresh unripened cheeses:
Most of the Cottage Cheese tasted had pleasant, fresh, delicate flavours, and no off flavours or odours were detected. The Cream Cheeses entered were varied in fat percentage, styles as well as flavours added.
Feta:
The array of entries had different textures, mouth-feel, and salt content. Some of the entries were flavoured, and the best examples scored very well.
Cream Cheese
The Cream cheeses were mostly unflavoured and ranged from medium to full fat. In all, the texture and spreadability were superb, with pure flavours. The flavoured cream cheeses were expertly manufactured, with natural flavours that rang true.
Cottage Cheese
With this category the flavoured variety dominated, but again natural, balanced flavours were the order of the day. There seemed to have been great strides made to please the consumer.
Camembert and Brie:
The entries submitted were in different stages of maturity. Most of them had creamy, buttery tastes. In some cases, earthy and nutty tones dominated, and others were more fruity or grassy.
Cheddar cheese:
There were several entries in this category. Cheddar is a tough category to judge. With mild Cheddar, the differences between the products were not significant because most of them were not aged. The primary factor was the quality of the milk used, as well as the workmanship of the cheesemaker.
Hard cheese:
There were excellent entries in this category. The best examples had nutty flavours and nice complexity.
Dairy dessert:
This category showed how innovative producers are, and the feeling was that these products are tailor-made for the consumer.
In general, the dairy category was overwhelming with clever, balanced, technically correct, and consumer-driven products on show. It was an eye-opener to see that the products that consumers take for granted, to be simply acceptable, exceeded expectations.
Condiment and Sauce Awards
The time constraint on people in the modern world has the effect that they have less free time to do home cooking. Because of this, consumers use sauces and condiments as a quick and easy way to make their meals more interesting. Producers made use of this perfect storm to grow this category exponentially.
The Condiment and Sauce entries varied a lot, with Chilli-based sauces having the biggest number of entries per class.
The Chilli sauces varied from mild to very hot, with Habanero and Portuguese-style sauces dominating. Overall these sauces showed a very good balance. Many small producers managed to be very innovative, and consequently, the panellists could get a look into this ever-expanding market. This was a category that really stood out to the judges.
Vinegar was a surprisingly big class, ranging from wine to balsamic vinegar and reduction. The balsamic vinegar was rich and complex, with flavours ranging from cherry, chocolate, and berry to figs.
Some individual specialized sauces stood out, while some of the meat sauces disappointed.
Final conclusions
Consumers tend to perceive products as generic, and people think that quality should not vary much. Nothing can be further from the truth. The value of the professionally evaluated products can open a whole new world to consumers. Awarded products help the consumer to make better-informed decisions. An award is a tool for producers, wholesalers, distributors alike.
2021 Judges
We would like to thank companies who entered, the staff who made this event possible and our partners:
Aqua Panna
Canals
Crystal Direct
Equipment cafe
Freddy Hirsch Group
Truth Coffee Academy
Hario
Hendrick's
Institute of Culinary Art (ICA)
Mahlkönig
Polyoak
RX Olive Oil
Seven Oaks Trading
Theron du Plessis Chartered Accountants
Toyota
The dates for The Aurora International Taste Challenge 2022 will be announced in February 2022.
For any enquiry, visit www.aurorachallenge.com, or email hello@aurorachallenge.com
Sevenoaks Trading (Pty) Ltd
Sevenoaks Trading (Pty) Ltd are suppliers of imported green coffee beans. They import green coffee direct from the origin and supply it to coffee roasters in South Africa and its neighbouring countries.
Sevenoaks Trading had its humble beginnings in 1999, working from a garage in Midrand where the focus was on importing coffees from Zimbabwe for local roasters as well as exporting this coffee to other countries. Since then, they have grown and expanded into importing coffees from Central and South America, Indonesia, India, China as well as East and Central Africa. The bulk of their coffee is stored in a warehouse in North Riding, Johannesburg. In 2019 they opened the doors to an office in Cape Town and have replicated the Johannesburg facility with its coffee lab, coffee consultants, and sample roasting facility.
Quality control is done in-house as well as by their trader Paul Cooke in Sevenoaks Kent in the UK. All coffee is bought by approving pre-shipment samples. All coffees are cupped on arrival for quality assurance purposes. They are proud to have their very own qualified Q grader, Nicodemus Nabakwe, spearheading the quality control in Johannesburg and Q Grader Michael Mac Donald in the Cape Town office.
They supply a wide range of Conventional, and more recently Premium coffees to roasters in South Africa and neighbouring countries, from selling a minimum of one bag, to brokering the purchase of full containers on their behalf.
Sevenoaks offers regular training to customers highlighting the process from plant to roasted bean. They incorporate roasting as well as cupping to develop and understand the different coffee flavours and to mentor roasters in developing and improving their unique blends.
Contact information:
Contact person: Michael Mac Donald
Email: mike@sevenoakstrading.co.za
Telephone: +27 21 555 1973
Address: Unit 4, Grasso Business Park, No 4 BP Road, Montague Gardens, Cape Town, South Africa.
Website: https://www.sevenoakstrading.co.za/
Wild Peacock Fine Food Merchants
Since its humble beginnings in 1991 supplying an exclusive range of quality seafood to the Western Cape's top restaurants, Wild Peacock has been built on personal relationships. Whether it's customers or suppliers, Wild Peacock continues to put people first. They believe their company's success hinges on the care and effort that goes into servicing their customers' needs. Their dedication to sourcing quality produce based on sustainability, ethical company structures and long-term engagement with reliable suppliers has become trusted friends.
The modern distribution centre was designed to offer multi-temperature storage and a versatile packing facility. The fleet of refrigerated vehicles delivers within Western Cape, South Africa with specialist third-party distributors servicing the rest of the country.
Over the past decade, exposure to international food trends has seen the South African experience rapid and exhilarating growth. They kept pace, by supplying the finest ingredients to their customers, many of whom have become celebrated bucket-list destinations for global gourmands. They have also taken their knack for sourcing fine produce, once only glimpsed on Masterchef, to home cooks with the Wild Peacock Food Emporium. Established in 2010 in Stellenbosch, it has since won the Eat Out Produce Award for Outstanding Outlet in South Africa.
Contact information:
Contact person: Ross Baker
Email: ross@wildpeacock.co.za
Telephone: 021 801 3663
Address: 16 Stoffel Smit Street Plankenbrug, Stellenbosch 7600
Website: https://wildpeacockshop.co.za/
Hendrick's Gin
Hendrick's Gin is a brand of gin produced by William Grant & Sons at the Girvan distillery, Scotland, and launched in 1999.It was invented by Lesley Gracie, a Yorkshire native, who was hired by William Grant & Sons to work in new liquid development for some of their products. A decade later she was tasked with creating a new super-premium gin. In addition to the traditional juniper infusion, Hendrick's uses Bulgarian rose and cucumber to add flavour. Hendrick's gin is bottled in a dark brown, apothecary-style bottle.
Hendrick's uses a blend of spirits produced from a Carter-Head Still (constructed in 1948), of which there are only a few in the world, and a small pot still, built in 1860 by Bennett, Sons & Shears. Both have been restored to working order after being bought at auction in the 1960s by the former William Grant Life President, Charles Gordon. The two stills produce strikingly different styles of gin due to their different construction and methods of distillation.
The pot still is generally referred to as the Bennett still. The still is quite small, which allows most of the botanical flavour characteristics to pass into the spirit. The still is filled with neutral spirit, and the botanical recipe added with some water. This is left to steep for 24 hours, which begins the process of extracting the flavour from the botanicals. The still is then heated by an external steam jacket to boil the liquid. As the pot begins to boil, vapours move up the short column of the still to the condenser, where they condense and are collected. First runnings can be as high as 92% alcohol, with a gradual decrease in the strength as the distillation progresses. Once all of the alcohol is collected, the final spirit will be approximately 75% alcohol v/v. This spirit is heavy, oily, and smells strongly of juniper.
In contrast, the spirit derived from the Carter-Head still is much more subtle with light floral and sweet fragrances. Its method of production is quite different, with only the neutral spirit and water added to the pot. All botanicals used with the Carter-Head are added to a flavour basket at the very top of the still. Rather than boiling the botanicals, which produces the strong pungent spirit of the Bennett still, the Carter-Head bathes the botanicals in the alcohol vapours only. As these rise up through the still, they enter the base of the botanicals basket. Inside, the botanicals are contained in copper baskets, which hold them together while allowing the vapours to be fully exposed. As the evaporated alcohol moves through the botanicals, it efficiently extracts their flavours, which are carried out of the basket along with the alcohol until they reach the condenser. Only the lighter, sweeter and floral flavours can be extracted by this method, which gives the spirit its distinctive character.
The final Hendrick's gin is a blend of these two spirits, with an addition of cucumber essence and rose petal essence.
Contact information:
Contact person: Shaun Stemmett
Email: shauns@rgbc.co.za
Telephone: +27 21 797 5450
Address: The Really Great Brand Company, 2 Braeside Rd, Kenilworth, 7708
Website: https://www.rgbc.co.za/
Equipment Café
Opening a coffee shop isn't easy, but a detailed coffee shop equipment list can set you up for success.
Despite all the recent ups and downs, it's actually still a great time to enter the coffee business. According to a July 2020 report from Research and Markets, the global coffee shop market is expected to be worth $237.6 billion by 2025. Coffee is the second most popular drink in the world and has a major influence in our social lives and daily habits.
To open a successful coffee shop, you'll have to research trends, find reliable wholesale partners and order the best coffee shop equipment that your budget allows. This is where Equipment Café comes in. Equipment Café brings market leading coffee and tea equipment and accessories from all over the world, with highly trained and knowledgeable staff.
Contact information:
Contact person: George Karatzas
Email: george@equipmentcafe.co.za
Telephone: +27 60 989 1271
Address: 23 Susan St, Strijdompark, Randburg, 2169
Website: www.equipmentcafe.co.za
Acqua Panna
Acqua Panna® Natural Spring Water, which dates back to the Romans, is considered by some to be Italy's most famous spring water. It comes from the region of Tuscany located 3700 feet high in the serene Apennines Mountains. It's a source located on a vast, unspoiled natural reserve. The source, to the north of Florence, is nestled among beechwood and chestnut forests, and lush meadows on the slopes of Mount Gazzaro in the town of Scarperia.
Legend has it that Romans built the only road from Northern to Southern Italy through Scarperia. This road went past the Acqua Panna spring, which provided deserved refreshment to weary travelers.
In the 1500s, terra cotta pipes were discovered near the source. These pipes were used to transport the natural spring water to the noble Medici Family, the wealthiest, most powerful and influential family in Florence. The Medici's home, called Villa Panna, is located on the land surrounding the source. The cream-colored villa provides the name for the brand, "Panna," which means "cream" in Italian. The lion's head found on the Acqua Panna logo was originally part of the fountain at Villa Panna.
In the 1860s, the first Panna water was manually bottled from a plant built in one of the Medici's farm buildings. Sold in demijohns or fiashi, straw-covered glass flasks now used for Chianti wine, the water was delivered by horse and cart to Florence. In 1927, after World War I, the water was bottled in glass on an industrial scale. In 1959, Sanpellegrino Spa purchased the plant, and in 1970 the brand was re-launched as the first still water sold in plastic bottles in Italy. The Panna plant quickly became one of the most technologically advanced bottling plants in Europe. Today, Acqua Panna® Natural Spring Water is one of the biggest water brands in the world.
Contact information:
Contact person: Diane Naidoo
Email: diane@clearworld.co.za

Telephone: +27 (0)81 444 1723
Address: Clearworld Suppliers, 15 Marinus Road, Marconi Beam, Cape Town, 7441
Website: https://clearworld.co.za/
Weber
With World War II at an end, America's heroes returned home in search of somewhere to live with a small backyard where they could relax in peace. Suburbs soon started to pop up and entertaining outdoors became de rigueur. Free-standing metal braziers replaced traditional barbecue pits as home chefs turned to high heat fast grilling instead of the slow-cooking of yesteryear. But this only brought more problems. If it rained, barbecues spluttered into a soggy mess and a mere breeze would turn a mouth-watering steak into an ash-encrusted disappointment. It took an unexpected light bulb moment after another barbecue bail-out for George Stephen.
If George was still hungry for a good steak, he was even hungrier for success. Back at the metal works, where he worked, his idea began to take shape as he chopped a metal buoy in half, added air vents and legs, and the original kettle barbecue was born. He realised it looked more than a bit weird, but he proudly took it home to try it out.
His neighbours only stopped laughing at the spaceship, as they called it, when they tasted the steak that George cooked for them on it. He knew that cooking on a rounded bowl with the lid down was the key and he was quickly proved right. Now everybody wanted one. George decided to set up on his own and by the end of the 1950s, he was able to buy out Weber Brothers Metalworks. He then changed its name to Weber-Stephen Products. George's lidded barbecues were proving to be such a hit throughout the 1960s and 1970s that American TV picked up on his story.
George and his small team toured the country doing cookery demonstrations wherever anyone would let them and TV programmes made it easier to show just how easy Weber barbecues were to use. People loved the simplicity and delicious results possible.
By now, entertaining at home was thankfully becoming less formal and the first Weber gas and electric barbecues were welcomed with open arms. Weber created some pretty funky designs during the era and each one was built around the much-loved dome shape with a rounded bowl. George Stephen Snr. had always been a man with a big idea, but with one particular business idea, even he thought he may have bitten off more than he could chew.
During the 1970s, companies were enticing customers with gifts and other much-desired items to win new business. George's business was still quite small, but his entrepreneurial spirit pushed him to go for it with an ambitious plan. He approached his local bank with an idea to give away free grilled sandwiches to anyone who came into the bank on 'Sandwich Day'. To his amazement, the dour bank manager loved the idea and a date was set: three weeks hence. It was only then that George wondered how he was going to deliver what he'd promised.
Sandwich Day arrived and so did fifty 8kgs hams, half a truck of freshly baked rye bread, 227kgs of charcoal, and eight Weber Ranch Kettles. George fired up the barbecues, staring at the mountain of food, desperately hoping he wouldn't still be staring at it at the end of the day.
The first sandwich was due to be served at 11am but by 9am, the police had to be called for traffic control. The bank was swamped from the word go and grilled ham sandwiches were flying around amongst the bank account application forms. By the end of the day, they'd got through 862kgs of ham, 431kgs of charcoal, a truckload of rye and a vat of mustard. George had hoped to sell 40 or 50 sandwiches to the bank for their customers, but that turned into three truckloads and the bank had opened 650 new accounts. Result!
The 1980s was a period of growth, innovation and change for Weber. George's passion for barbecuing was as high as ever and he continued to find ways to make better barbecues. He found that angled metal bars distributed heat more evenly and he added channel drippings to reduce flare-ups and make cleaning easier. And when the Weber Genesis was introduced, it changed the design of gas barbecues forever.
Sadly, George Stephen Snr. passed away in 1993, but the people of America have never forgotten that it was his simple invention that changed the way they cooked outdoors. Through his amazing vision, he took a basic metal bowl and continued to transform it and re-invent it into the Weber barbecues we use today.
Today Weber is a proud producer of Gas, Charcoal, and Electric barbecues.
LOCATE A DEALER (South Africa)
Makro – www.makro.co.za
Builders Warehouse – www.builders.co.za
Checkers Hyper www.checkers.co.za
Kloppers – www.kloppers.co.za
Hirsch's – www.hirschs.co.za
Tafelberg Furnishers – www.tafelberg.co.za
Patio Warehouse – www.patiowarehouse.co.za
Takealot.com – www.takealot.com
Polyoak Packaging is a founding partner of The Aurora International Taste Challenge and we are very proud to be associated with their brand.
Recently we did an interview with Polyoak Packaging to learn more about this company.
When was this company founded, and how did it start?
Polyoak Packaging was founded in 1976 in Diepriver, which is still its head office today. It started making plastic garment hangers but soon moved into food packaging, beginning with plastic bottles for the dairy industry. Today Polyoak benefits from its almost forty years of food packaging experience.
What are some of the unique features of your company/brand?
Polyoak is a fully South African company – a one-stop shop because it specialises in packaging design and development, mould manufacture, injection, blow and compression moulding. It also has its own in-house microbiology laboratory to conduct analysis on its packaging.
Quality assurance is guaranteed with internationally recognised health and safety accreditations including FSSC22000.
Tell us about the production side?
Polyoak has almost fifty manufacturing plants and finishing departments across South Africa with facilities also in Namibia (Windhoek), Zimbabwe (Harare) and Eswatini. Polyoak is geared towards high volume, low cost production achieved through advanced technology and small teams of experts working closely together in partnership with the customer to deliver high quality packaging solutions. Polyoak specialises in the design and manufacture of blow, injection and compression moulded and thermoformed packaging for dairy, beverage and food markets, as well as industrial applications. This includes bottles, closures, drums, buckets and tubs made from plastics such as PET, high density polyolefin (HDPE) and polypropylene (PP).
What do you think is your distinct advantage or reason for your success?
Polyoak's packaging has been designed and optimised for recycling which enables us to offer truly sustainable packaging solutions. In fact, Polyoak's HDPE bottles are the most recycled beverage packaging in South Africa! 80% of milk bottles are collected for recycling into bins, crates, bags and new bottles for detergents and personal care products. 62% of PET beverage bottles are collected for recycling and over 80% of plastic (PP) ice-cream, yoghurt and spreads tubs are re-used multiple times once empty for storing food, stationary etc. Recent local lifecycle assessments (LCA's) show that plastic bottles have a much lower carbon footprint than carton, glass and metal alternatives. Polyoak's rigid plastic packaging is cost-effective, lightweight and better for the environment.
Polyoak is working closely with the relevant producer responsibility organisations to raise awareness about the importance of recycling to help eliminate plastic pollution.
Polyoak is a founding member of the South African Plastics Pact launched to develop a circular economy when plastic packaging never becomes waste.
How do you see your company or product on the global stage?
Polyoak's greatest asset is its people. This homegrown talent has proudly led to Polyoak winning numerous international packaging awards, often being the only South African packaging company on the podium. Most recently we partnered with Danone to win the food category with a gold medal in the Goldpack Awards for our fully recyclable, in-mould labelled yoghurt tubs range. Our 38mm dairy closure also won a Worldstar Award for being the lightest dairy closure in South Africa!
In what countries are your products available?
Polyoak has extensive distribution networks that enables it to partner with customers mainly in the SADC region including Zambia, Tanzania, Kenya and Mauritius.
Do you perhaps have a social responsibility drive? Tell us about it.
Polyoak focuses on the holistic wellbeing of its circa 2,500 employees with wellness programmes and continuous development through its dedicated in-house education and training division, Polyoak Business School.
Polyoak continues to work towards its BEE employment equity targets and to uplift the communities in which it operates. In 2020 Polyoak and its employees personally donated R6 million towards Covid-19 relief for the provision of personal protective equipment for frontline workers, Covid test kits and essential medical equipment as well as electronic food vouchers to help feed needy communities and valued waste reclaimers that were unable to earn a living collecting recycling during the lockdown.
The Polyoak Family Educational Foundation provides tertiary bursaries for its employees' children and it runs literacy programmes at local schools.
Polyoak has a strong belief in empowerment through education and it is extremely proud of its Teachers Plus Foundation which offers scholarships to talented students from high-economic-need communities so that they may acquire the qualifications, support and experience they need to become outstanding Mathematics teachers. www.teachersplus.co.za
Contact details:
Contact:
Michelle Penlington, Marketing & Sustainability Executive
Address:
Polyoak Packaging
Waterford Road
Diepriver
Western Cape
7801
Telephone:
+27 (0) 21 710 9200
Email address:
info@polyoak.co.za
Website:
www.polyoakpackaging.co.za